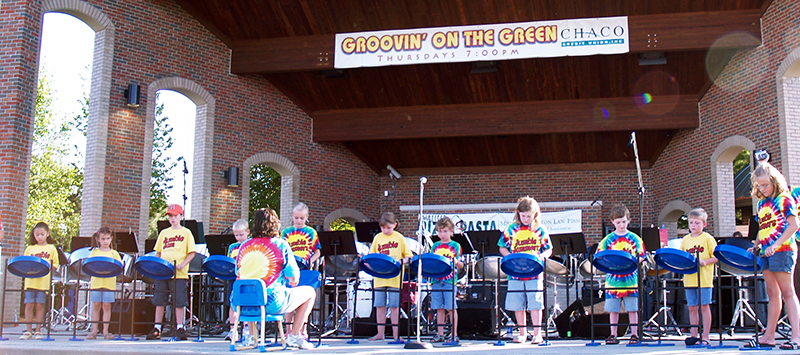 21 Dec

5 Reasons Steel Drums are the Perfect Instruments for Kids

If you're looking for an instrument to teach kids that's fun, easy to learn and easy to clean, steel drums are the perfect instrument for you! Whether you're teaching in a group setting or just want your child to learn an instrument, our Jumbie Jams check all the boxes when it comes to music education. Jumbie Jams are made at our shop in Ohio, and are a smaller version of a full-size steel drum, or steel pan, as they are traditionally called. 

In fact, the Jumbie Jam is named after a character from Trinidadian folklore. A Jumbie is a mischievous and playful spirit that grabs hold of you and compels you to take action. What you're urged to do depends on the Jumbie that bites you! Check out five reasons we think the Jumbie Jam is the perfect instrument for kids. Maybe the Jumbie spirit will grab a hold of you, too!
1. Steel drums offer a well-rounded musical education
Playing the Jumbie Jam stimulates rhythm and creativity, as well as concentration and motor skills. The Jumbie Jam does it all. Each note on our Jumbie Jams is labeled, so when a child is reading the notes on our song books — or any sheet music! — he or she can easily locate the correct note on the Jumbie. This not only makes it easy to learn how to read music, but also how to make beautiful music. With a Jumbie Jam, your child will be playing beautiful melodies in no time, whether they already know how to read music or not.
2. Looking for an instrument that's portable and lightweight for kids?
Jumbie Jams are portable and lightweight. We even have backpacks to carry them in! Whether they're packing up their Jumbies to take to grandma's, or bringing them to a music lesson, a child of any age can easily bring these back and forth if needed. Jumbies are also very easy to set up for educators, parents and students.
3. An instrument for kids that's easy to sanitize
Jumbie Jams are incredibly easy to clean. There is hardly any contact between the person using the drum and the drum itself, since it is played with mallets. Simply use a disinfectant wipe on both the drums and the mallets, or a cloth and a cleaning solution. Kids could even wear gloves while they play and then discard them after use, making the steel drums even easier to sanitize.
4. Steel drums are an instrument that combines history and music
The steel drum originated in Trinidad and Tobago and is an important part of the history of those islands. This gives kids a chance to connect with another culture! Combine history lessons, lessons on civil rights, and stories of resilience in the face of adversity while teaching an instrument that's fun to play.
5. Build a community with steel drums
Teaching kids steel drums in a group setting is a way to build camaraderie among your students. Kids don't need to have the same skill level to play together. As long as they're all reading the same notes, they can play the same music! This offers kids a way to connect with their peers and share interests. As they get older, they can jam out with their friends. 
Whether you're a music educator who teaches music virtually, a parent supplementing music education, or you just want your child to play a fun instrument, a Jumbie Jam is an affordable, portable, easy-to-clean choice. Playing the Jumbie Jam ignites all areas of a child's development, helping the body and mind work together. 

The Jumbie Jam was selected for a "Best Tools for Schools" award by the National Association of Music Merchants. The panel of diverse music educators identified the Jumbie Jam as a musical instrument that provides innovative solutions and opportunities for music education.