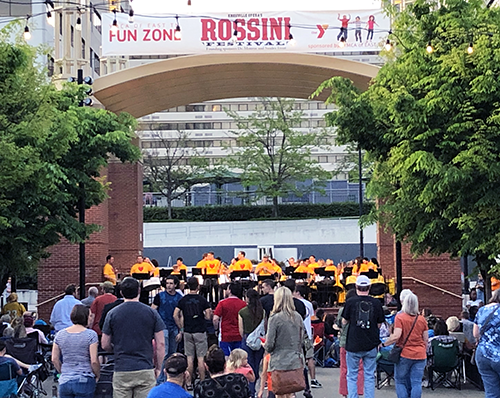 12 Apr

Celebrating the Steel Pan in High Schools and Universities

Schools all across the world are embracing the steel pan as a meaningful part of their music curriculum. The steel pan, or steel drum, is a unique way to expand your musical horizons and join a community of like-minded people. 

Many schools will soon begin hosting their end of year concerts and competitions, and students will ramp up their practice sessions. The Bethel College Steel Drum Band, for example, is led by Brad Shores, and hosts yearly concerts. Shores has written several original pieces of music that the band performs, including "Blue Samba," "Island Breakdown," Urban Spice" and "Spin Cycle."

In Columbus, Ohio, students from Capital University and Franklinton High School performed a steel pan concert together recently. Capital students mentored the high school students in the instrument. 

"We don't have many of these steel drum festivals in the state of Ohio so this was an opportunity to try to start something which we hope will continue," Capital University Professor of Music Bob Breithaupt said in an interview with ABC 6.

Capital students gave the high schoolers a tour of the college campus to see what college is really like. 

To see a fantastic steel drum band, check out Trinidad classic Pan Ecstasy by Ken "Professor" Philmore performed by the UNT Steel Drum Band, directed by Mark Ford and Chris McWilliams. This video is from UNT's Global Rhythms concert on 11-2-2015.
Steel Drum Bands for College
While Panyard's Jumbie Jams are one of our more popular instruments, our full-size instruments have stocked the classrooms of many schools across the country. This is especially true for high school and colleges. It brings us a huge sense of pride to know that we play even a small part in a student's musical experience. While the above schools don't necessarily play on our instruments, they're great examples of the benefits of playing the steel drum. 
We have two very affordable options available for educators to use in high school and college. The first is our import series. Our Import Series offers a high quality and affordable range of pans. 
There are four basic steelpan percussion instruments. 
These high-quality instruments take advantage of our advanced understanding of the physics and geometry of the steel drum, providing the optimum play-ability and timbral consistency. 
You can buy these steel drums one piece at a time, or all at once for a full band. From entry level to university, Panyard's wide selection of steel pan instruments and accessories provide a "one-stop-shop" to set up your band.
"A school my size (120 graduates a year) can afford any instrument under $2000 on a yearly basis," said Director of Bands Eric Schrader, Greenville High School in an email testimonial to Panyard. "Most quality brands of instruments, like tenor saxes, bass clarinets, and intermediate horn types cost at least $1500 and more often than not, close to $2000. With the price of a steel drum under $2000, all schools can afford pans and promote this wonderful art form." 
How to BUY STEEL DRUMS
Our full-size pans are handmade, and are made to order. We're working on streamlining the production process, but right now each full-size steel drum is custom-made. If you're interested in a smaller version, check out our Jumbie Jams!
If you're unsure how to buy steel drums, give us a call at 800-377-0202. We can talk you through the process, including how many you will need. We can even guide you to some of our most popular songbooks and sheet music.