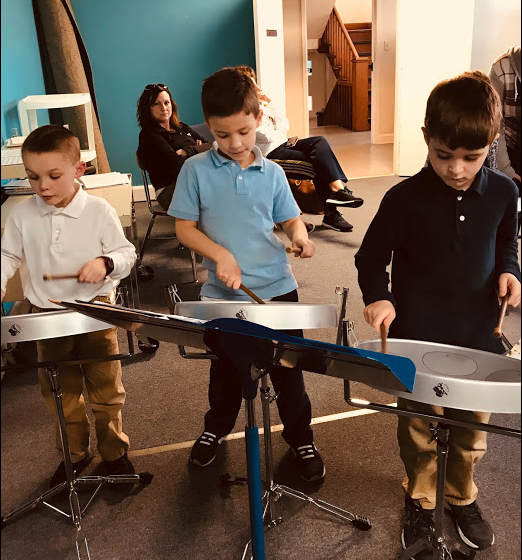 11 Sep

"I was skeptical about the Jumbie Jam. But it has big steel pan sound."

While we make full-size professional drums, one of the things we're best known for is our original Jumbie Jam, a small version of the steel pan. 

Our Jumbie Jams are made in Akron, Ohio, and are designed for all ages and skill levels. But don't just take our word for it!

"I had five of their wonderful Jumbie Jams at my school when I taught elementary music (K-5)," said online reviewer Bill M. "They're terrific instruments, they sound amazing, and compared to the price of Orff-style xylophones, they are much more affordable. They're accessible to all ages, and do not require any challenging technique to play."

Reviewer Nicole N. was thrilled with the look and sound of our Jumbies. 

​​"From the photo, I thought this was going to be painted dull gray and it is shiny steel," she said. "So beautiful. But even better, I do not know how to play an instrument, and I was able to play the included short songs within a few minutes. It has only been here about 15 hours and is already making all of us happy. The sound is beautiful. I am a mom and had no trouble putting the stand together. I highly recommend this nice instrument!"

The tone of our instruments is something we get complimented on time and time again. People are always pleasantly surprised when they realize the instrument is in tune and able to create beautiful music with very little training from the musician. 

"I love the sound of steel drums," said reviewer Dawn H. "Amazed at how beautiful the tone is on this item. The stand could be a little sturdier, but overall I would recommend this item. Nice drum for the price. It is addicting…hard to walk by without playing a little tune."

Yah mon! We know it. We can't resist it either!  We have multiple stand options including our all metal Z-Stand which is very sturdy and height adjustable. 

Adults and children alike love this instrument.

"I've always wanted to learn to play the steel drums and I'm really enjoying it!" said reviewer Johanna A. "Great beginners drum to see if you like it."

Lucille M. bought a Jumbie Jam for her grandson. 

"Our son recommended we get a steel drum for our grandson's 4th birthday," she explained. "The little one loves music. No one expected the Panyard Steel Drum to be such a hit for young and old. The simple song book was easy to follow, and one of the guests' fathers found other steel drum songs to play on his smartphone. This drum has a lovely sound. Truly gives all a Caribbean feeling. Easy to assemble. Grandson unwrapped gift and father assembled it immediately at the party. Can adjust height to fit a small fry or youth. This Panyard was blue including the feet. Such fun!!"

Even experienced players love it, as well as those very familiar with Caribbean culture and music. 

"I traveled the Caribbean during the 1970s, especially Trinidad and Tobago and fell in love with the melodic sound of the steel pan," said reviewer Stacy A. "I was skeptical about the Jumbie Jam. But it has big steel pan sound. The CD [now downloadable instead of CD] and booklet are excellent for getting started. This is not a toy. Take my word you will be happy with this purchase."

Give it a try for yourself! Our Jumbie Jams are affordable, easy to learn, easy to clean, and great for everybody who loves music.