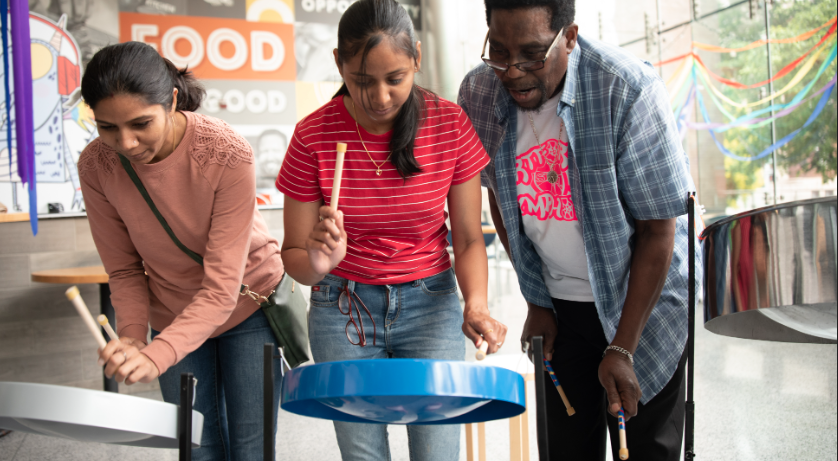 27 Jun

Panyard Supports Make Music Day 2022

On June 21, 2022, Panyard supported dozens of Make Music Day chapters across the country as they celebrated their love of music. We were able to supply them with a Jumbie Jam, which kids and adults alike were able to enjoy. (Check out the full list of chapters we sponsored here!)

RiverCity Rock Star Academy drum and percussion teacher Kaylee Bontakis put together a "Found Sound Alley" in Salem. She set up a variety of percussion instruments, including Jumbie Jams, in the alley. It went on for eight hours, and the Jumbies were integrated with other instruments to create a blend of unique sounds. 

Many people were pleasantly surprised by the sound quality, as well as the simplicity of learning the instruments. 

National Make Music Day organizers were great cheerleaders for our instruments, sharing with their audience that "the Jumbie Jams are great for all ages and musical abilities – you'll be astounded by the quality of this spirited instrument, which produces pleasant tropical musical sounds."

Make Music Alliance Special Projects Manager Catherine Mingus said that "because of ease of use, Panyard has positioned themselves to be the go-to for introduction/entry-level to the instrument. No one else does it in a way that is so easy for beginners to get involved."

Check out what some of the other chapters had to say!

Make Music Hartford

I can say that the event was a lot of fun. Kelvin Griffin, a native of Trinidad, was the leader of our event. He brought one of his drums to play alongside and to give a deeper look into the world of steel pan for those who were interested. 

We had a lot of kids participating. They learned scales. Some of the adults who were with the children and adults who showed up on their own participated in the lessons. There were lots of smiles on faces. The youth librarian for Hartford Public Library absolutely loved the instruments… 

Caribbean culture is very important in the City of Hartford. We have a large immigrant population for the islands here. Our organization supports two major festivals including West Indian Independence Celebrations and the Taste of the Caribbean and Jerk Festival. Having this workshop in our Make Music Hartford lineup was fantastic. 

Make Music Federal Way

I had never heard of Jumbie Jams before… We displayed them at a 5-hour Make Music Federal Way at Town Square Park in Federal Way, and both kids and adults enjoyed them. It brought back memories of a trip to the Caribbean. 

Make Music LOLA

We had two different opportunities for people to play the Jumbie Jam steel drums. The youngsters enjoyed playing with Jessica Anderson, and some not so youngsters did too. Everyone enjoyed playing them, and we even got a few people walking the streets to stop and play. It was a hot and humid day in northern Wisconsin, but folks loved trying them out!

Make Music Clatsop County

I demonstrated and played the steel drum, a secret love of mine, on Make Music Day 2022. Don't be fooled—I had never touched one before that week! Much to my surprise, about 15 people in 45 minutes made music outside in a paved lot! The drum's melodic sound was heard for quite a distance. And who stood out the most? Was it the six year old who meticulously memorized and then played each measure of "Limbo Rock"? He was awesome. Or was it the elderly woman who pounded out "Star Wars" with me? I report that EVERYONE was the best at experiencing the drums and making music. Thank you, Panyard, for making that possible.

Make Music Kansas City

Musication Station was set up in the Grand Hall near the entrance to Science City at Union Station, here in KC. Everyone that walked past the Panyard Jumbie Jams display stopped to play the steel pans. There were a few small children that literally had to be pulled away from them by their parents after playing with them over and over for several minutes. It was great fun!
It was our honor and pleasure to be a part of this celebration!