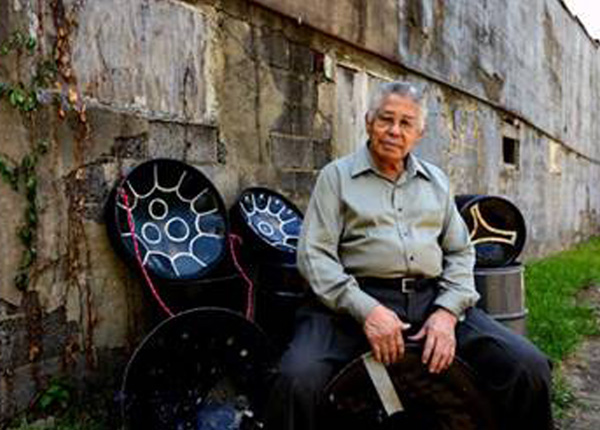 25 Nov

Remembering The Father of the Modern Steel Pan

A sad day in Pan with the passing of Dr. Elliot Mannette the "Father of the Modern Steel Pan." Born November 5, 1927, in Trinidad, Dr. Mannette dedicate his life to the steel pan art form. He was awarded numerous times for his craft and his work in educating generations about Pan. A true global ambassador for Pan. RIP "Rest In Pan" Dr. Mannette.
"I always knew in my heart one day that my work would find its way, I could not tell you how, there was no one there for me to show the way but I figured it out. I figured it all through for all of you to see today." ~Ellie Manette
From his Wikipedia article:
Born in Sans Souci, Trinidad, Mannette as a young child developed a passion for metal and tools for metalworking, and would become engaged in the evolution of the phenomenon of sounding steel. At the age of 11, he was a member of Alexander's Ragtime Band created by Alexander Ford. From the middle of the 1930s, percussion bands of different quarters of Port-of-Spain were in competition with each other. Legend says that Mannette was the first person to use a discarded oil barrel to build a steel pan: "He sank the lid to create a tensed playing surface and fired the metal to improve the acoustic properties." From about 1939 to 1941, he performed with his own band, the Oval Boys (the name taken from the oval sports pavilion opposite the band's rehearsal space).
In 1951, [TASPO] (Trinidad All Steel Percussion Orchestra) traveled to Great Britain to present the new musical instrument at the Festival of Britain. Mannette was a member and tuner for this orchestra, which consisted of leader figures of different Trinidadian steel bands.
In 1948, Mannette was formally offered a scholarship to study music in London which he turned down in order to be able to build more steel pans.
After having visited the United States in the beginning of the 1960s to build up the U.S. Navy Steel Band, he was invited to New York City to build instruments for an inner city youth program. This invitation had been carried out by Murray Narell, a New York social worker and father of Jeff and Andy Narell. At this time, Mannette tuned his instruments by ear. Eventually he learned about the necessity of concert pitch A440Hz and the use of strobe tuners.
Since 1967, Mannette has been building up several hundred steel bands all over the United States mainly in colleges and universities, but also for private institutions. In 1991, he was invited by West Virginia University to show interested students how to build and play steel pans. What was meant to be a guest-semester eventually turned into a longtime relationship called the University Tuning Project and later on the company Mannette Steel Drums.
"I always knew in my heart one day
that my work would find its way,
I could not tell you how,
there was no one there for me to show the way
but I figured it out.
I figured it all through for all of you to see today."
~Ellie Manette