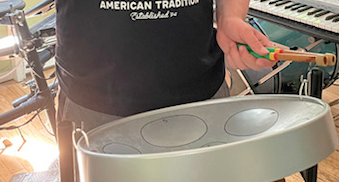 22 May

Student with Autism Finds Joy Through Music

Here at Panyard, we know that music in general is powerful. We are especially passionate about the sounds of the steel pan, and we love learning that we're not alone. We connected with Angela and Ben Blanchet, a mother and son duo who have an incredible story to share. 

Ben was diagnosed with autism when he was around 2 years old. According to his mother Angela, he didn't have language until he was around 7. When he was 3, though, Ben's aunt gave the family a keyboard that came with preloaded songs. 

"You press the song bank, and the lights light up, allowing Ben to watch the keyboard play," Angela said. "He'd take his finger and trace them, then play the song."

After only a short time, Ben would play the melody of songs he heard on the radio. Angela was advised to put stickers on the piano that had the letters of the notes Ben was playing when was around 5. It was a decision that changed both of their lives. 

"When Ben did get speech, he would start saying things like, 'No laughing in G sharp,' or 'The doorbell goes D-C,'" she said, describing how Ben recognized which notes he was hearing. "Anything he hears has a pitch."

A nearby music school for special needs students asked to test Ben for perfect pitch. After a half hour of music notes as well as basic sounds like alarms, they quickly determined that Ben did, in fact, have perfect pitch. 

Perfect pitch is defined as the ability to recognize the pitch of a note or produce any given note. Now, at the age of 15, he can hear and name an entire chord, like D flat diminished. 

One day, during the early days of Covid, the family went out to see Spiderman: Into the Spiderverse. Angela asked Ben to write about his experience watching the movie, to which Ben replied, "Yes, because I have superpowers."

Angela was intrigued, and asked Ben to write about his superpowers. 

"Maybe autism is my superpower," Ben wrote.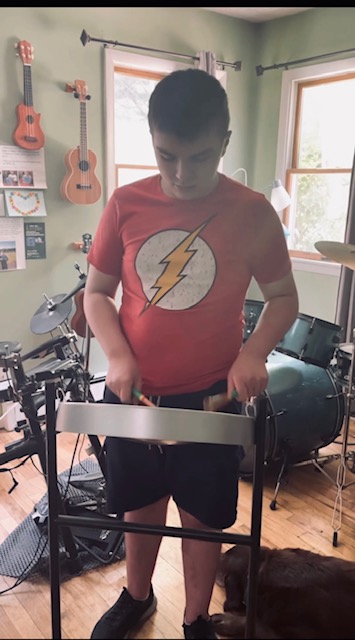 Over time, the pair wrote a short book about Ben's superpowers, and launched a Facebook page as well. One of the first things he posted was playing songs by ear with his eyes closed on the keyboard. Inspired by Ben's openness, other children and families started talking about their own superpowers. 
"That's been the mission on his page for the past couple of years," Angela explained. "To look past the self talk, the stimming, the rocking, and to see the gifts these kids with autism have." 
Their local radio station caught onto him through social media and asked if they could interview him about his book. The next day, they said they really liked him and asked if he wanted to record the weather from home (something other guests have done as well). 
Instead of speaking the weather, he wrote a song about it on his ukulele. Now, they have him on every week making weather songs. 
So what does all of this have to do with steel pans? Well, two years ago, Angela purchased a Jumbie Jam for Ben. He immediately started with Christmas music and began to make videos of himself playing pan. He now takes virtual lessons, and recently started playing a full size Panyard steel pan.
These days, we brainstorm with Angela and Ben about ways we can make our instruments more accessible to children and adults with special needs. Ben is now teaching other kids how to play, and has a following around the world. 
"Ben really likes the sound of the steel pan," Angela said. "It's like a drum with a pitch. He always calls his other drums pitchless. So it's the feeling of drumming, which is wonderful sensory input for people with autism. It's something called proprioceptive input. It's soothing."
Angela thinks that the fact that people can be successful relatively quickly and feel good about themselves is a big factor in why Ben and his friends love to play. 
"It does a lot for them," she said. 
We will publish more information about how the special needs community can benefit from not only music therapy, but steel pan in particular. Stay tuned! If you're interested in shopping, you can click here.