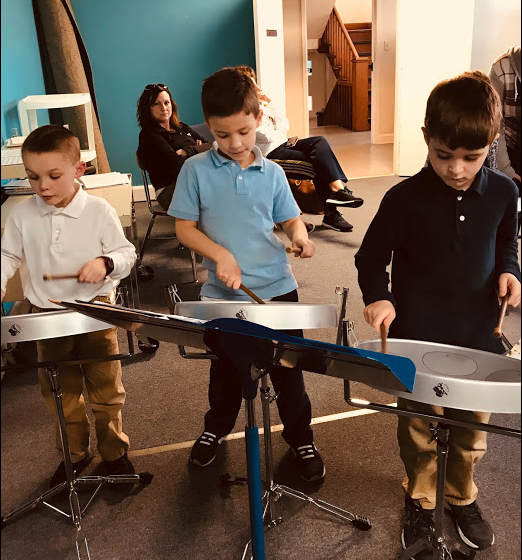 13 May

Teaching Steel Pan in the Classroom Through Jumbie Jams

We previously interviewed Jordan Stickell to find out what drives her passion for steel drums. Turns out, it's all about how children respond to the instrument!

Jordan teaches private lessons to about 25 students, and is also a full-time instructor at a private school in Kentucky. She focuses on the ukulele and steel pan during her private lessons, but uses the Jumbie Jams more frequently in the classroom. 

Jumbie Jams are Panyard's portable, lightweight steel pan. They're made in Ohio, and have the same craftsmanship and quality the full size pans have. They're perfect for students. 

Jordan has taught her students how to hold the mallets, and teaches them songs they've already learned on other instruments like xylophones.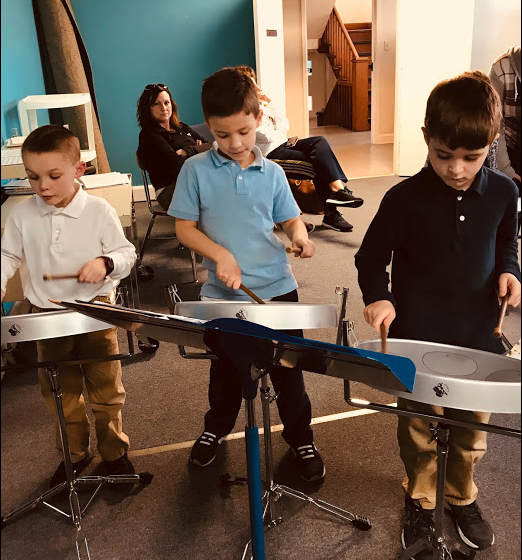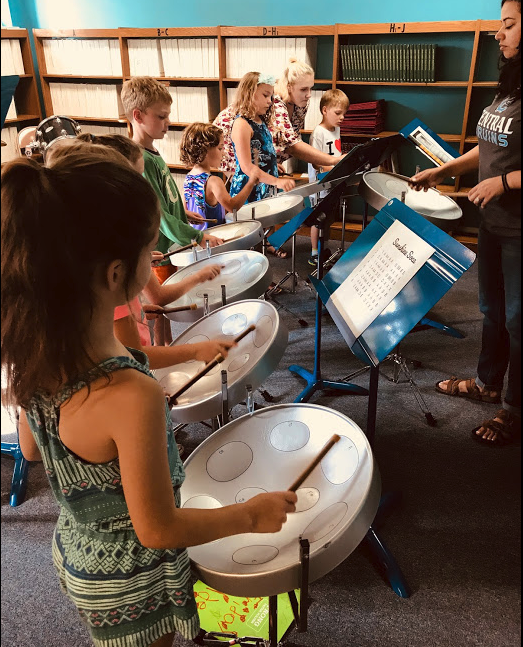 She has traditionally used the ORFF method in the classroom, which involves dancing and a whole lot of creativity. She's discovered that many students love to improv on the Jumbies and uses that as a reward. 
"I don't seem to have as many issues with kids with behavioral issues when they're playing," she said. 
Kids can stand or sit while they play, and they can also transfer what they just learned to another instrument. 
A Jumbie can offer the same type of musical education as learning to play the recorder or ukulele. Jordan has started recording backing tracks for her students, and has worked towards creating a full curriculum with them. She says that if teachers don't have the budget for a full set of Jumbies for the classroom, you can start out with a handful and use them with other instruments. 
Parents love their children learning steel pan. They can take it home and immediately learn a song, even just by ear. Jordan uses a lot of shapes and colors when she teaches, and children can walk out of her room playing two new songs. 
Jordan uses a number of tactics to help her students learn quickly and have fun. Those include:
Allowing students to play solos

Creating time for students to play freely and improvise

Combining steel drum lessons with the ORFF method
Learning music on a Jumbie Jam offers a fairly comprehensive music education. Students can learn an unlimited amount of songs, ranging from traditional Caribbean music to modern pop. As a teacher, Jordan enjoys the Jumbies because they're cost effective and versatile. 
Jumbie Jams are smaller-scale steel drums tuned to a diatonic scale. They're designed simply and have an easy-to-view layout. The simplicity allows them to play successfully without necessarily developing the skills required for more complicated instruments. Students don't need to develop breath support, learn how to string tune, or how to hold and use an instrument like a violin. 
Students can find the correct pitches by simply looking at the letter names labeled on the Jumbie Jams! 
Students do need to work on things like grip, stroke, and coordination. The technique used to play the steel pan is similar to barred percussion instruments — rather than keeping the thumbs pointed toward each other, students should place their thumbs in an upward position, which is referred to as a "French grip." This allows students a greater finesse to create a light stroke. 
In Jordan's experience, students love playing and learning to play the steel pan on Panyard's Jumbie Jams.