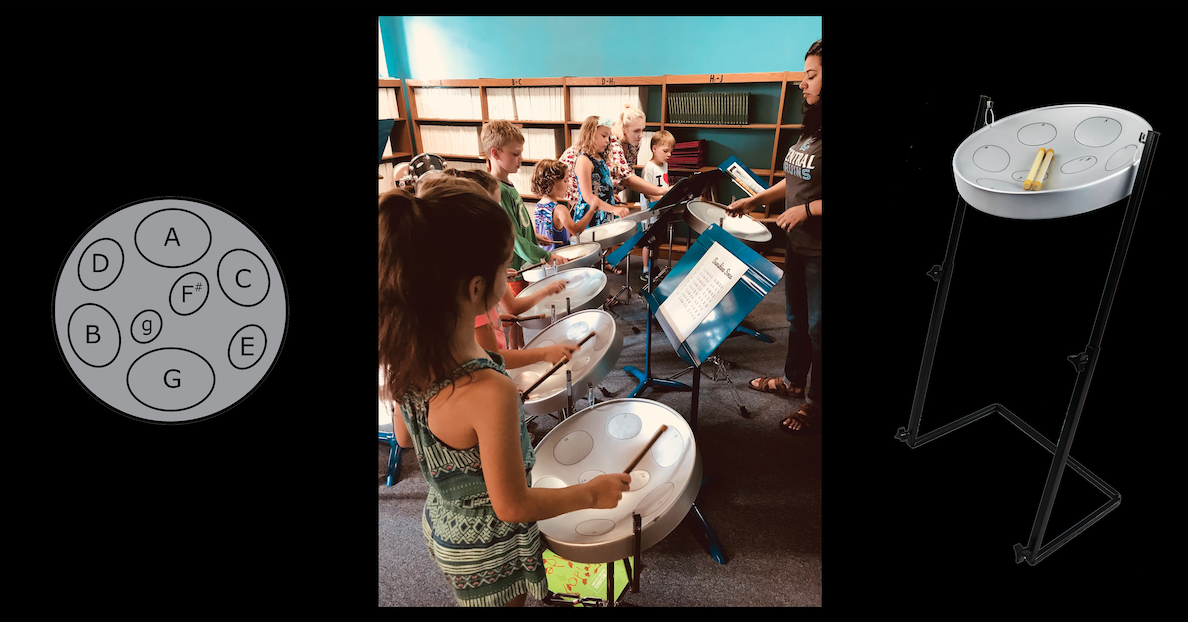 20 Sep

Add a Jumbie Jam to Your Music Curriculum

Ready to spice up your music lessons? Add even just one Jumbie Jams to your curriculum and see how your students' eyes light up. Based on feedback from educators who use Jumbie Jams in their classroom, students have a blast playing the instruments and are able to absorb the lessons surrounding them easily. 

Now is the time to purchase Jumbies so that you're ready to roll next semester. 

Jumbie Jams are Panyard's portable, lightweight steel pan. They're made in Ohio, and have the same craftsmanship and quality Panyard's full size pans have. Learning music on a Jumbie Jam offers a fairly comprehensive music education. Students can learn an unlimited amount of songs, ranging from traditional Caribbean music to modern pop. 

Jumbie Jams are smaller-scale steel drums tuned to a diatonic scale. They're designed simply and have an easy-to-view layout. The simplicity allows them to play successfully without necessarily developing the skills required for more complicated instruments. Students don't need to develop breath support, learn how to string tune, or how to hold and use an instrument like a violin. 

Students can find the correct pitches by simply looking at the letter names labeled on the Jumbie Jams! 

Students do need to work on things like grip, stroke, and coordination. The technique used to play the steel pan is similar to barred percussion instruments — rather than keeping the thumbs pointed toward each other, students should place their thumbs in an upward position, which is referred to as a "French grip." This allows students a greater finesse to create a light stroke. 
Music teachers find success using Jumbie Jams in their curriculum
Steel drum instructor Jordan Stickell teaches private lessons to about 25 students, and is also a full-time instructor at a private school in Kentucky. She focuses on the ukulele and steel pan during her private lessons, but uses the Jumbie Jams more frequently in the classroom. 
Jordan uses a number of tactics to help her students learn quickly and have fun. Those include:
Allowing students to play solos

Creating time for students to play freely and improvise

Combining steel drum lessons with the ORFF method
Beth Ann Hepburn is a music educator of 25 years, and one of her favorite instruments to teach her students is the Jumbie Jam! She has been using Panyard's Jumbies in a classroom setting for 10 years. She primarily teachers 4th-6th grade students.
"The Jumbies are so good for the school budget," she said. "To have the sound of the steel drums at that price in an elementary classroom is great."
You can read more about Beth Ann's experience teaching Jumbies to her students here. 
We have dozens of testimonials from teachers across the country that use our Jumbie Jams to teach music. 
"Fun and easy!" said teacher Mary Beth Kell. "My kindergarteners loved playing them and their focus was incredible! The various levels of music from pre-reading to actual music gave every student an opportunity for success. Many students come in at recess to get extra playing time.  I am using them in Gr. K-6 and now our teachers  want a steel drum band.  As an educator, I love that they are affordable, easy to assemble, and the quality of sound is great!" 
Instruments that are easy to clean and store
Jumbie Jams are very simple to clean. Not much contact takes place between the person using the pan and the pan itself, since it's played mallets. Just use a disinfectant wipe on both the drums and the mallets, or a cloth and a cleaning solution. Kids could potentially wear gloves while they play and then discard them after use, making the Jumbie Jams even easier to sanitize.
Since the Jumbie Jams are small and lightweight, they are easy to take in and out of storage for use. The pans detach from the stands, so they take up very little space no matter how many you have. 
The Jumbie Jam was selected for a "Best Tools for Schools" award by the National Association of Music Merchants. The panel of diverse music educators identified the Jumbie Jam as a musical instrument that provides innovative solutions and opportunities for music education. 
Check out our selection of Jumbie Jams, and if you have any questions, just give us a call at 330-745-3155 to discuss bulk pricing.